Durga Puja 2021: Every year different forms of Durga Puja are seen in West Bengal. Last time the corona infection was completely stopped but this time people are going out to see the Durga Puja pandal avoiding corona. The government has urged people to wear masks, use sanitizers and maintain social distance following the Corona Protocol. At the same time, it is forbidden to go inside the big pendulum. People have to see their favorite and famous pendulum from outside. The entrance gate to the puja pandal management has been made so large that visitors can see the mother from outside. By the way, people come here from far and wide to see this festival which has been celebrated for 10 days.
Millions of crores of rupees were spent in different parts of Kolkata to make puja pandals of mother Durga with different themes. These pendulums attract people to them. What is special is that this time all these pandals are giving a very important message to the people who have come here, including mother devotion, peasant movement and political issues like NRC. These pandals have been performing well for the last many years. Let me tell you which 6 pandals in Kolkata are attracting people towards this Durga Puja and why.
Read more: Durga Puja 2021: Tomorrow is the day of Mahasaptami Navapatrika Puja, find out the method of worship
Sribhumi Sporting Club
This time Sribhumi Sporting Club of Kolkata has prepared a pandal for Durga Puja 2021 on the theme of Burj Khalifa in Dubai. Due to the Corona Protocol, no visitors were allowed inside the pendulum. However, the pendulum can be seen from outside. The gate of Pandel has been enlarged so that people can easily visit Mother Durga from outside.
Dumdum Park India Chad
This time Dumdum Park Bharat Charak Puja Committee has made a pandal centering on the farmers' movement and Lakhimpur Kheri incident. This pujo pandal has been inaugurated on the day of mahalaya. Farmers' movement is being talked about by putting big curtains around the pandal.
66 Parish
This time female priests will perform pujo in 6 rural pujo clubs in South Kolkata. This is the specialty of this year's pandal. The theme of this pujo pandal is 'Maya Awan in daughter's hand' which means only mother will call mother. For the first time in Calcutta, women priests are performing Durga Puja. The group of women priests will be led by Nandini, a former professor of Sanskrit.
Baguihati Friends Mahal Club
This time gold eyes have been placed on the idol of mother Durga at Bandhumahal Club in Baguihati. At the same time, the sari wrapped in mother Durga has gold embroidery. Let it be known that the price of the sari is one and a half lakh rupees and the eyes of the idol are made of more than 10 grams of gold.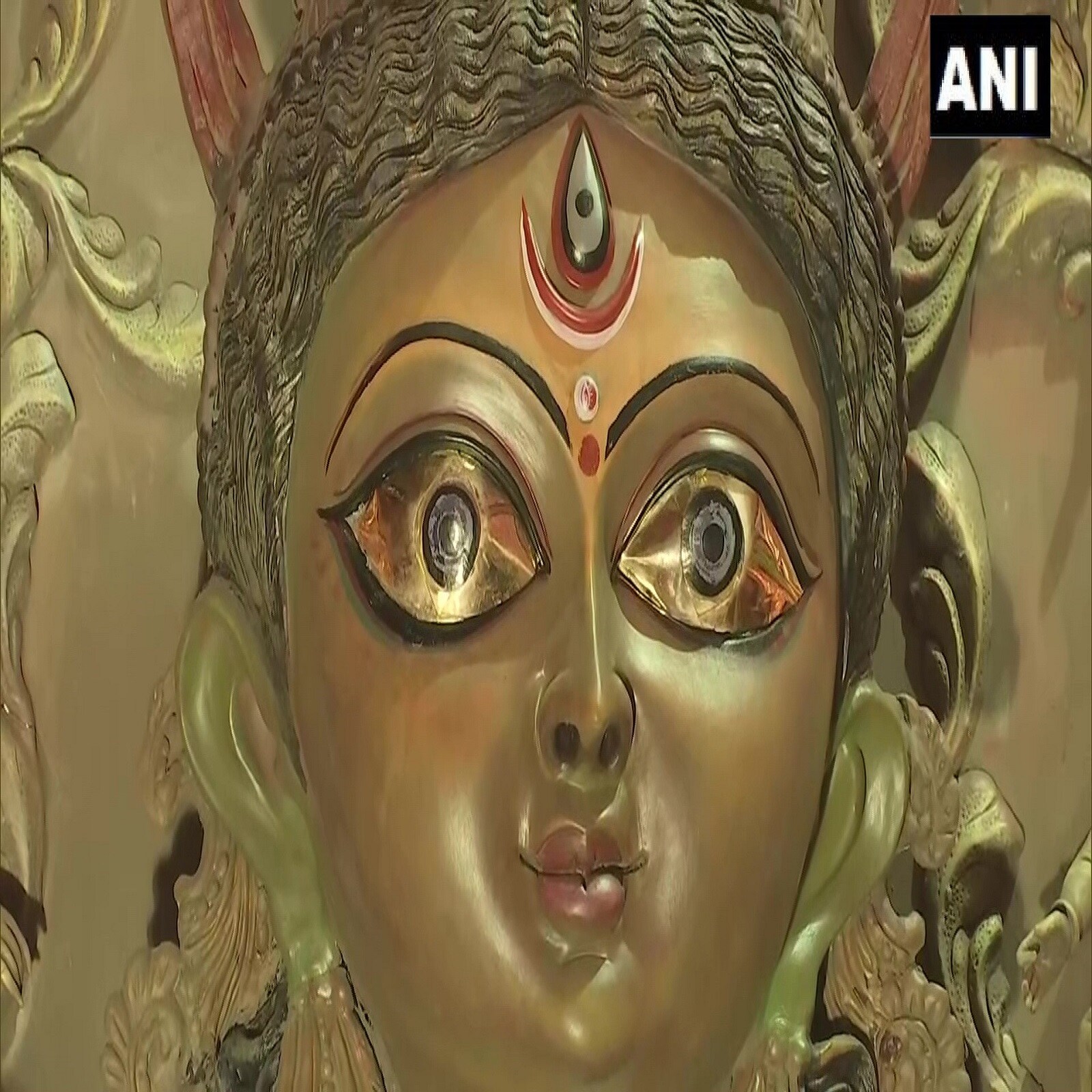 Behala Barisha Club
This time Durgapujo has taken a political position in Barisha Club of Behala. The idol of Durgaji has been carved here like an expatriate mother. This year's theme is 'Mother of Divide' and it specifically details the life of a family inside a detention camp. The puja pandal depicts the plight of the National Register of Citizens (NRC) and those who consider themselves refugees.
Read more: Shardiya Navratri 2021: See these temples of Mother Durga on Navratri, you will be blessed
Nalin Sarkar Street Puja Pandel
The Bollywood puja pandal on Nalin Sarkar Street depicts 70s Bollywood. The puja pandal is decorated with hand-painted advertisements, old photo posters and actor cutouts. The theme is titled 'Return Brush Tone', which means 'Go Back to the World of Brushes'. Here is a form of art that was lost in the digital age.
Read Hindi News See more online Live TV News18 Hindi website. Learn about home and abroad and your state, Bollywood, sports world, business News in Hindi. Us Facebook, Twitter, Instagram And Telegram Follow.
Tags: Durga Puja 2021, Lifestyle, Travel
,



Source by [author_name]