Patna.
Bihar Assembly preparations are in full swing. All the candidates are campaigning vigorously in their respective constituencies for the first phase of polls. But this time the equation of almost every seat has changed. This is because the Lok Jan Shakti Party (LJP) is contesting the elections separately from the NDA, while the RJD-ML (CPI-ML)-Congress (INC) is coming together. However, the 2015 elections also saw similar interesting contests. Then JDU-RJD-Congress (Mahagathbandhan) fought together against NDA. The election results came in favor of the Grand Alliance and Nitish Kumar became the Chief Minister again. But within two years, Nitish separated from Lalur and joined the BJP.
In 2015, Rashtriya Janata Dal (80) won the maximum number of seats, followed by JDU (69), BJP (54) and Congress (25). Though RJD-JDU won more seats, BJP was ahead in vote share. In 2015, the BJP got 24.4 percent of the votes, while in 2010 the BJP's vote share was just 16.5 percent. However, between 2010 and 2015, the BJP's vote share increased by about 8 percent, but lost 38 seats. In such a situation, let's take a look at the results of the last 3 elections in Bihar. How many seats did a party get, how many votes did it get and how many parties entered the electoral fray…
Hence the current state of Bihar.
As per the current situation in Bihar, 122 seats are required for majority out of total 243 seats. In such scenario, NDA has a total of 130 seats, out of which JDU has 69, BJP has 54, LJP has 2, HAM has 1 and 4 independents. On the other hand, the Grand Alliance has a total of 109 seats, of which 80 are RJD, 25 Congress, 3 CPI-ML and 1 independent. Waisi's party also has one seat, while 3 seats are vacant.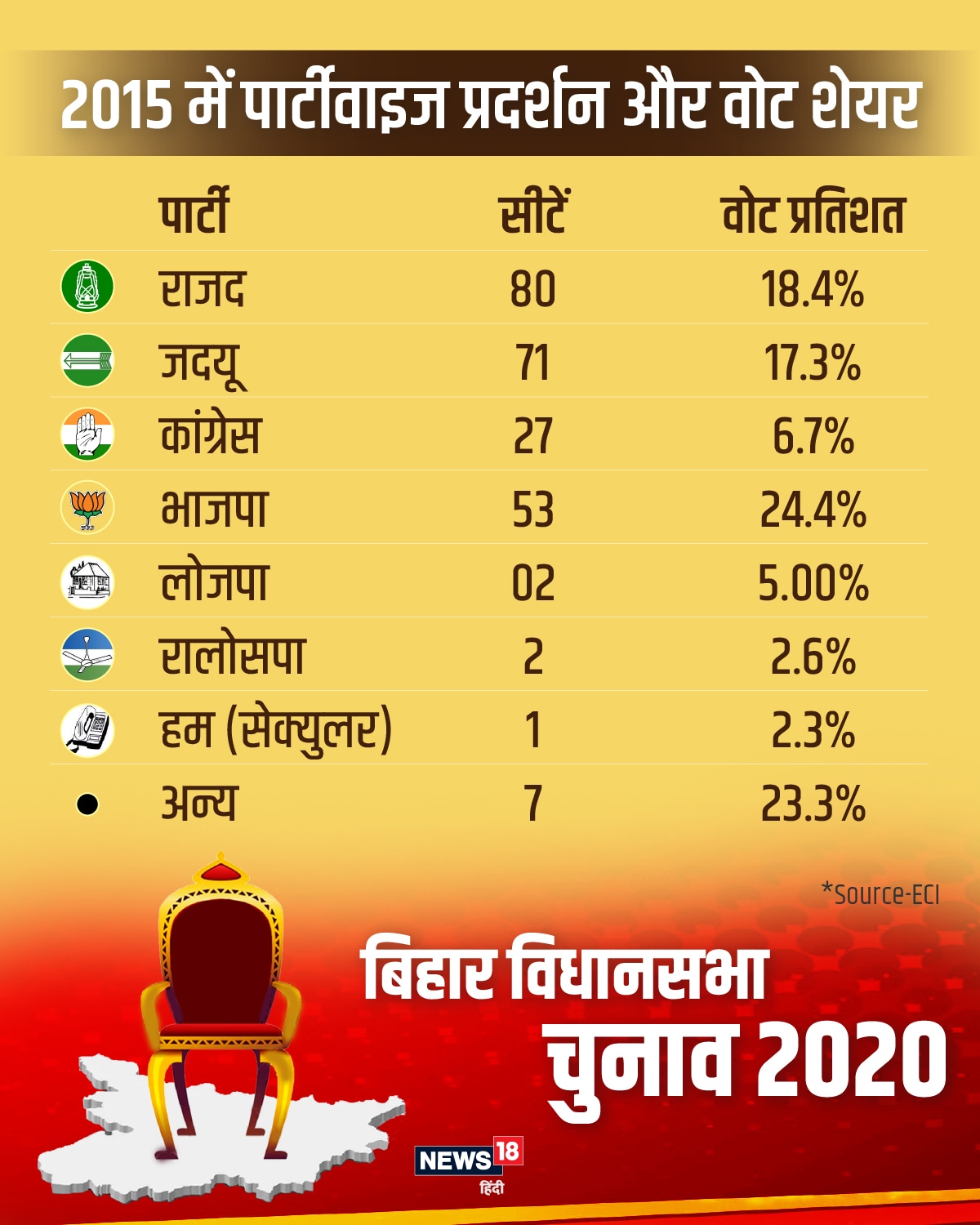 How was the government formed in 2015?
In 2015, Nitish Kumar's party JDU, along with RJD, entered the Bihar Legislative Assembly under a grand alliance. In this, RJD got 80 seats, JDU got 71 seats, Congress got 27 seats. This reduced JDU's vote share by around 5 percent compared to 2010. Whereas the BJP, which contested separately from the JDU, increased its vote share to around 8 percent.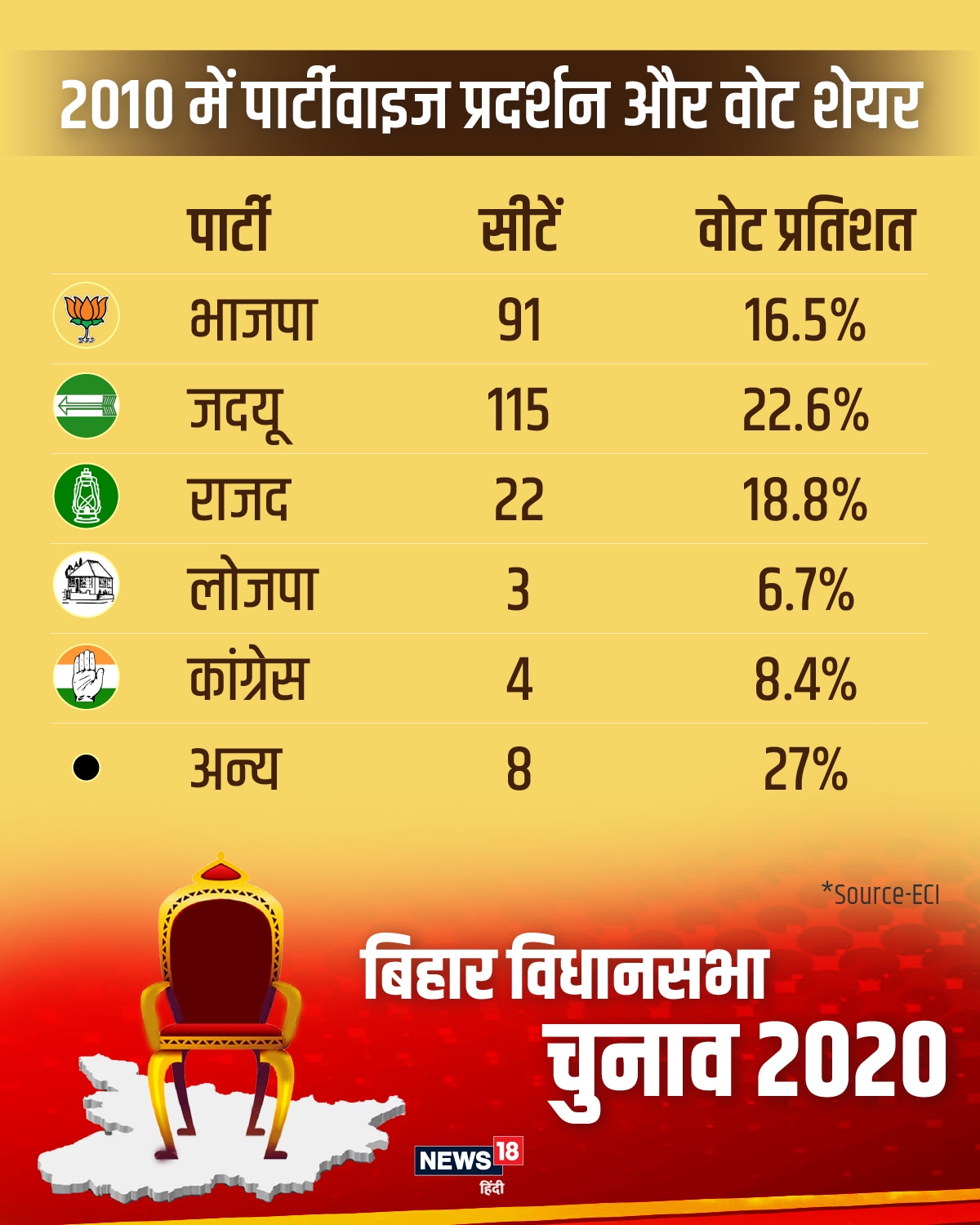 What do the statistics for 2010 say?
In 2010, it obtained the highest number of seats (115) and vote share (22.6 percent), followed by the BJP (91) in terms of seats. At the same time, RJD's vote share was 18.8 percent, despite winning only 22 seats.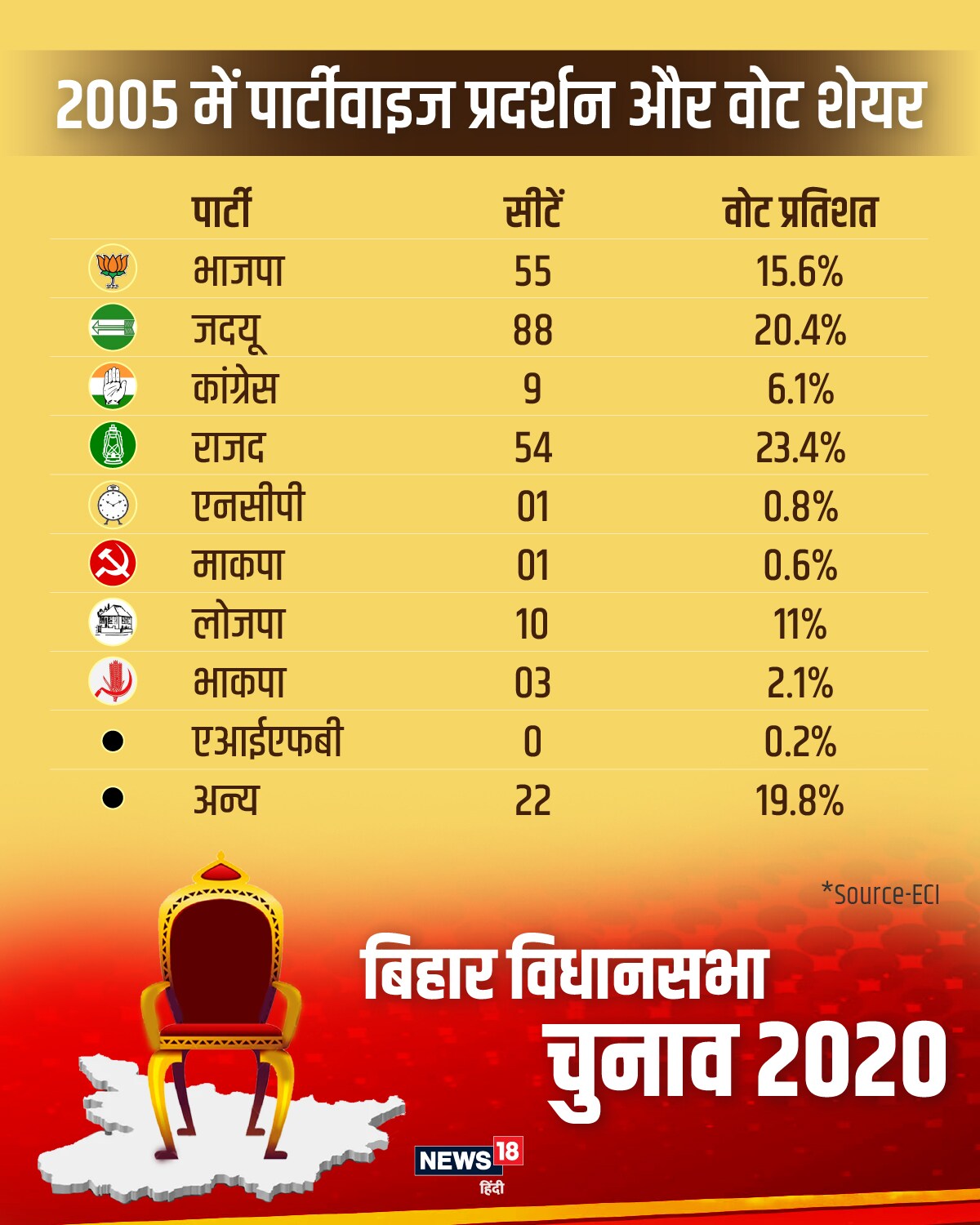 Elections were held twice in 2005
Elections were held twice in 2005, with no party winning an absolute majority. Lok Jan Shakti Party could have proved to be a game changer, but it refused to form government with any party. In such circumstances, elections were held again in October 2005, when the JDU won 88 seats and the BJP 55 seats and easily formed the government.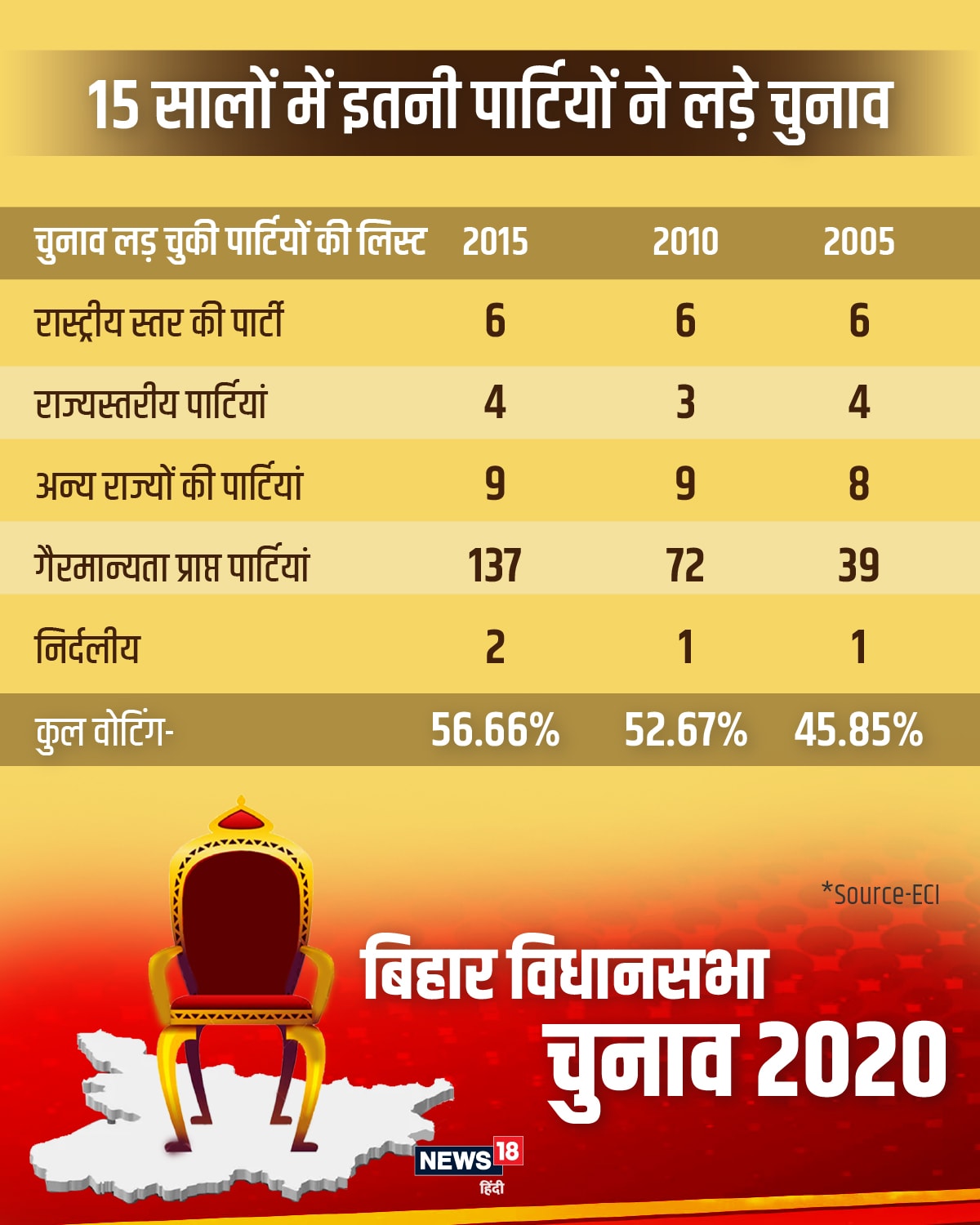 158 parties contested the elections
In 2015, 6 national parties contested for the Bihar Assembly, while 4 state level parties, 137 unrecognized parties besides 9 other state parties also participated in the election fray. At the same time, 2 independent candidates also tried their luck in this race. At the same time, in the last three elections, the voting rate is also increasing consistently. While it was 45.85 percent voting in 2005, it increased to 56.66 percent in 2015.




Bhagalpur: If Lumpy virus attacks cattle, identify and treat it




Bihar News: Do you know how much is the job and package of 20 youths at the employment fair in Purnia?




Sky disaster in Bihar's Supal, 2 dead including woman due to lightning




Bihar's Shailendra Kumar surpasses 40 lakh NSS cadets to join top 30, get honor from President




Doctor killed in land dispute, police nabs killer in blind case




Jagdanand Singh got the leadership of Bihar RJD for the third time, why Lalu's first choice?




Punjab Cadre Senior IAS Officer VK Singh Becomes Defense Ministry Secretary, Find Out What Responsibilities He Shoulders




The 7-foot crocodile looked like a fish in the water, and the villagers were surprised to be caught in the net!




8 contestants won the national level online sports knowledge test, know who is the topper?




Mathematician Vashishta Narayan Singh's school situation, teachers locked in toilets, students thirsty even for mid-day meal




BPSC 67th Prelims Admit Card 2022: Admit Card Issuing for BPSC Prelims Exam, How to Download
Hindi News18 Read the first breaking news in Hindi Read today's latest news, live news updates, most reliable Hindi news website News 18 Hindi |
Tags: Bihar Assembly Elections, Bihar Assembly Elections News18 Bihar Jharkhand Live, Bihar Assembly Election 2020, Politics of Bihar, Bihar news
First Published: October 15, 2020, 18:03 IST