New Delhi. India have definitely strengthened their resolve on the fourth day against England in the ongoing fourth Test match (India vs England) at Kennington Oval in London. While batting great, the hosts scored a huge 466 runs in front of England. The visiting team took a run lead in the first innings, so they now have to meet the 8-run target to win. Although, the chances of India losing from this turn are very low, they will have to take 10 wickets to win this competition.
In particular, the Kennington Oval track has steadily improved over time. That is why most of the Indian batsmen scored in the third innings. So the bowlers of the visiting team need to make a great effort now. Although India still have enough time to take 10 wickets. Nonetheless, former England batsman Nick Compton feels the game is heading for a draw.
T20 World Cup: Team India has been selected for the T20 World Cup! .
Nick Compton made the same point in a post on Twitter. The 38-year-old former cricketer further said that India's bowling attack will be tough as there is no effective bowler other than pacer Bumrah. In his opinion, Compton once again reprimanded Virat Kohli for putting veteran off-spinner Ravichandran Ashwin on the bench. Ashwin scoffed at Kohli, suggesting that he was helping India, saying he should allow "independent thinkers" into the party.
Ind vs Eng: Virat Kohli's worries, Rohit Sharma and Cheteshwar Pujara give hope
Nick Compton tweeted, "It can't be seen without a draw! India's bowlers will fight without Bumrah. If only Ashwin had played … Oh Kohli, it's good to have an independent thinker in your team."
This is not the first time that Nick Compton has taunted Virat Kohli for Ashwin's departure. Former England international cricketer Nick Compton claimed that the Indian captain had left out the experienced obvious off-spinner "due to obvious personal problems". He tweeted on September 2, "Can anyone please explain how Kohli allowed a clear personal issue with Ashwin to turn into a clear election issue?"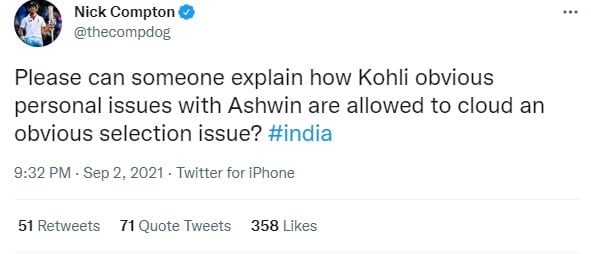 Let us tell you that Ravichandran Ashwin did not participate in the first four Tests because India went for a four-member pace attack. With the 34-year-old being the best spinner at the moment, many fans and experts are not happy with India's strategy. Nevertheless, the fifth and final Test is in Manchester, where the ball is known to spin. In that case, it remains to be seen whether Ashwin will get a match there.
Read Hindi News online and watch Live TV News18 on Hindi website. Learn about country and abroad and your state, Bollywood, sports world, business.
.



Source by [author_name]